I'm just going to flaunt off some of my work. Later on when I get another piece done, I'll go to the "I'm Ready For The Fury" section.
Picture taken with digital camera. Done with oil: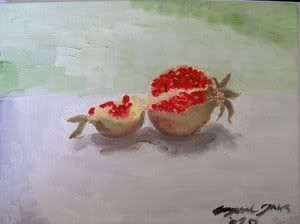 Picture taken with camera phone. Done with 4b and 2h pencil:
My self-nude (Too lazy to draw hands and such), and it's taken by the digital camera. Done with 4b pencils
This picture was taken in a dark room, so apologize. The referece photo is somewhere around photobucket. It's Davey Havok of AFI done with 2h and 4b pencils, and the blue eyes on the side are actually the eyes of Pelle Almqvist from the Hives. I used my Crayola pencils. The work fo this is actually lighter.
It's called "Darkness is Taking Over" done with acrylic. I scanned this one a long time ago.
This is also another musician (I don't knwo where the reference photo is). This was scanned. It's a work in progress done with 9xxb, 6b, and 2h pencil so far. I got tons of work to do on his hair.
Uuuuhhh... Voila?