While I wait for certain areas of another painting to dry, I decided to continue with another project of mine –
The Eye of Christ.
Background story
: I keep a dream diary. I record any images that I find interesting. Some of my art pieces originated from a dream.
One dream, thirteen years ago, had a profound emotional effect on me. This picture flashed into my mind for several seconds.
My first thought was the eye of Christ. The scars and radiance from the eye represented the grace of repentance.
My vision was far more powerful than any reproduction I could create. I found it difficult to even start this project.
It seems hopeless to recreate the vision with any sense of awe.
Some years after the dream I experimented with some sketches to see if I could grasp the vision with some degree of how I saw it. My main problem was the eye without a visible iris and pupil. Every time I painted this vision, it seemed there was something severely wrong with it. Then I tried it with some evidence of an iris, and it started to look better. Though it is not how I envisioned it, but it started to be more acceptable to my psyche.
Even so, I still felt that the eye looked more like a disorder than one of enlightenment or transfiguration. So now I have added an iris undercoat.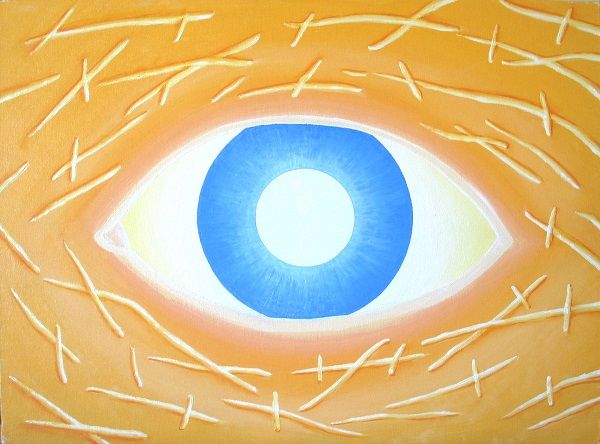 My next plan is to add more detail to the iris, preferably making the iris lighter in color.