This is going to be an oil painting of St. Francis of Assisi being visited by two angels. (36" x 57")
The true story version:
Francis was on a pilgrimage. Along a lonely path, two poor and hungry women begged for food. Francis offer a large portion of what he had - a piece of bread. The poor women were very grateful and left his company. Francis sensed something strange about them. He turned around to have another look at them, but they vanished out of sight. It was then he realized he was visited by angels.
My version:
Out of unconditional love St. Francis offers his bread to the women. Suddenly the faces of the women disappear to reveal a spiritual light-being. Their halo serves as a window into another realm. Francis' vision of truth puts him into shock and awe.
So far the painting reveals the dark groundwork for the rest to be built on. I decided to put in wings to differentiate between saints and angels. I plan to have the light source (unseen sun) above the two angels.
The first images are my preliminary sketches.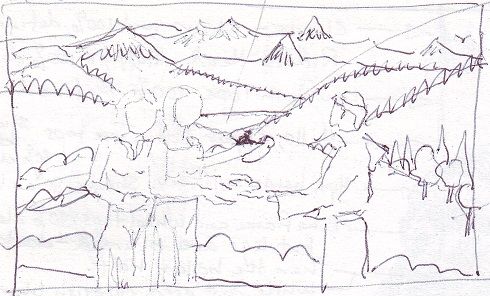 This is where the painting is at - at the moment.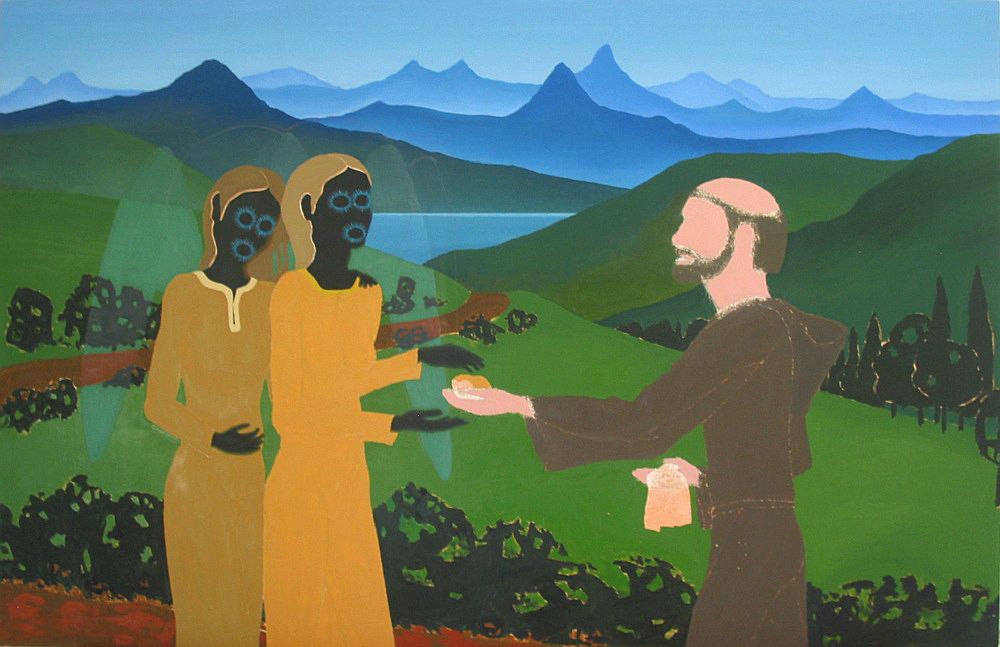 The following image (digital planning) is what I am going to do next.
Planned changes to groundwork:
Change mountain peaks - there are too many points.
Include halo areas.
Extend angel's left wing further left.
Change hand silhouettes to real human hands.
Place appropriate expression on St. Francis' face.